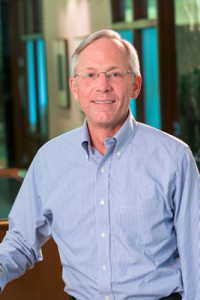 Bill joined Primus in 1985. He focuses on the firm's business services and healthcare investment activities. His historical investments include American Steel & Wire, Inc. (acquired by Birmingham Steel, Inc.), Bioanalytical Systems, Inc. (NASDAQ:BASI), Golf Galaxy, Inc. (acquired by Dick's Sporting Goods, Inc., NYSE:DKS), InSiteOne, Inc. (acquired by Dell, Inc.), Installed Building Products, LLC, PartsSource, Inc. (acquired by Great Hill Partners), Petzazz, Inc. (acquired by PETsMART, Inc., NASDAQ:PETM), SPARTA Insurance Holdings, Inc., and Universal Electronics, Inc. (NASDAQ:UEIC).
Prior to joining Primus, Bill served in various management and operating roles at McKinsey & Company, Deere and Company and First Chicago Corporation. He earned a BA in Economics from Denison University and an MBA from the University of Chicago.
Bill serves on the Board of Trustees of The Cleveland Clinic, Denison University and the Western Reserve Land Conservancy.